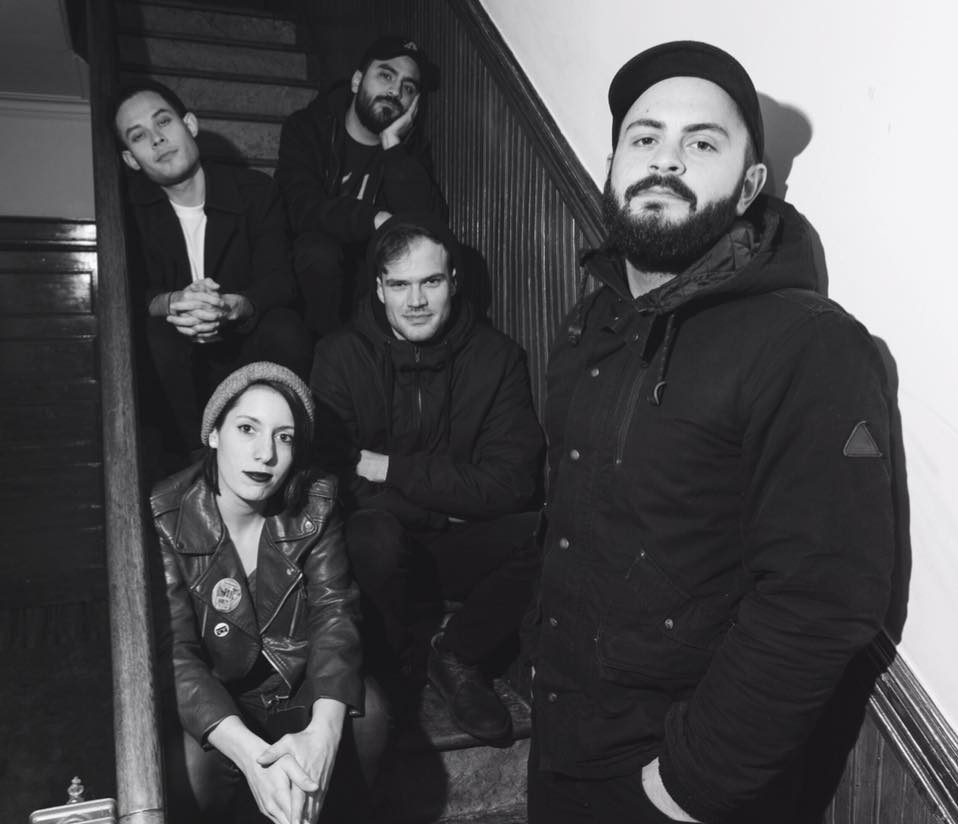 Facebook | Bandcamp
One of the freshest acts out of New Jersey making serious waves this year has undoubtedly been the fine men and women of Can't Swim.
Formed by Chris LoPorto (vocals/guitar) out of Keansburg during the spring of 2015, Can't Swim was originally comprised of Mike Sanchez (guitar), Danny Rico (guitar), and Greg McDevitt (bass) before the recent addition of Andrea Morgan (drums). A move that placed Danny Rico from behind the kit to third guitar and backing vocals.
Their last album (Death Deserves a Name) was a record that had promise of defining a musical style that would only become crafted in a beautiful, yet passionate, manner on Fail You Again. Growth and maturity can be found within their newest release as it entails an intimate reflection of Chris's personal life through a sound that represents both sadness and hope.
The simplicities of starting a project of this nature entices many to just copy and paste from other popular acts until one has developed a record of their "own." People tend to worry what others find enticing and thus, adhere to the popularities of society rather than their own desires.
Can't Swim is separate from those notions as this outfit is centered around life long friends making music based by their personal desire to showcase their passions. They are not worried about how they should be viewed nor do they try and fabricate some falsified image in order to please the masses.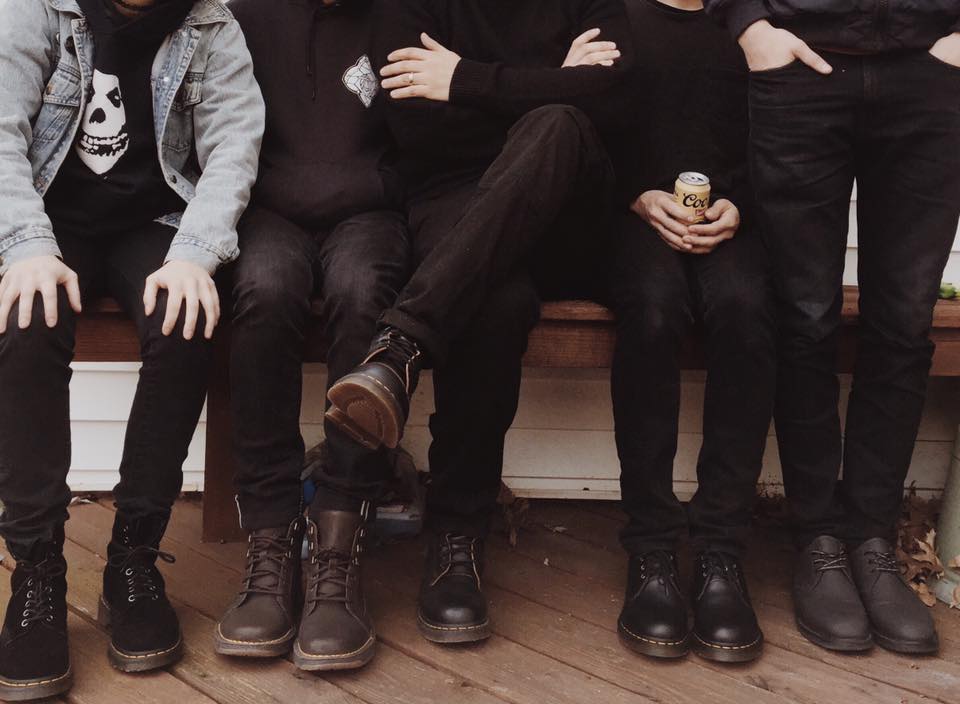 This sophomore release presents a raw and overdriven sound of regretful melancholy underlined by tones of resonating reverb and haunting delays sprinkled in. The drums play like an unabating force that comes in an out of intensity that highlights the emotional output of Fail You Again. An evocative collection of songs that strive to depict heartache and love. Through and through this is a simple yet enticing record to engage any listener.
Fail You Again is out today off of Pure Noise records and can be purchased on nearly every major format of distribution. Be sure to catch Can't Swim on tour this winter with Four Year Strong, Light Years, and Sleep On It. Head over to their website for more on tour dates, information, and news on the band.
Below is an interview between lead frontman Chris and Matt. Enjoy!
---
HEAD WALK: Can't Swim started off as an endeavor from Chris that slowly unraveled into a full line up. How was the process of forming the band as a whole?
Chris LoPorto: I was very fortunate to get the guys I did. They were my first pick and it just so happened that everyone was in the right point of their lives to be able to do this. Once Pure Noise put the record out, we quickly bought some gear, a van, and started touring right away.
HW: Matty Carlock was actually the first person to recommend us your listen as he discussed his formidable years during Back and Forth. From what we understand Chris once played drums for B&F, why the change towards something less aggressive? Is hardcore still relevant within your life or was it a stage to grow off of in order to expand your musical skills?
CL: I think they exist in separate universes. Punk and hardcore was the first type of music I really got into. My Uncle Mike played in a bunch of punk bands in the 90's and he was the reason I started playing drums. But ever since I was young, I liked all different types of music. Can't Swim is kinda just what came out when I started writing, what I was capable of, I don't know how much of it was premeditated.
HW: There seems to be quite the discussion with how inclusive or not bands are these days. Coming from a band who has a female presence in the band, do you feel that there is a lack of feminine or marginalized groups of people in music these days, or this just irrelevant debate?
CL: I certainly don't think it's irrelevant, but we had no thoughts like that when we asked her to be in our band, we just loved her personality and thought she was an incredible musician. But now that she's in the band, a lot of females have reached out and said how much of an inspiration she is and how they want to join a band of their own. Personally, I think that's pretty incredible and would love for that to continue.
HW: Why the christen the band as Can't Swim? Was this just a sweet sounding name or is there something more contextual behind it?
CL: Embarrassingly enough, I actually can't swim.
HW: What song off of Fail You Again hits home with the most? In other words, which track delivers the greatest significance to you in terms of lyricism?
CL: DDAN was really about one certain relationship. A period of my life with that person, and how I feel about it today. FYA coves that subject as well, but also other relationships within my family and the friends I've made in the last few years. "One Shot" hits home the most and is probably my favorite song lyrically on the record.
HW: What type of person do you think could relate to Can't Swim? In fact, what bands did you relate to growing up that allowed this project to reflect on those inspirations?
CL: I'd like to think that we aren't much of an acquired taste and that we keep it pretty simple, so anyone who's into loud rock songs could maybe dig it. I hope kids can relate and realize they should go and start a band with their friends like I did.
Seeing guys like Robert Smith of The Cure or Evan Dando of The Lemonheads, gave me the confidence that I could make a band too. Just normal guys singing about things they know and not trying to be something they're not. I hope people think of Can't Swim that way as well.

HW: Can't Swim shall be touring on Fail You Again a bit this year. After completing the Set Your Goals leg of this tour, how would you say everything feels?
CL: Pretty great. We love having Can't Swim as a five piece. It really was the missing ingredient to our live show. We also are quite happy to not be playing the same five songs anymore and have a wider variety of tunes to pick from.
HW: Let's talk some gear for all the musicians out there reading this. What are you guys running in terms of heads, guitars, pedal effects, and kit wise that you credit towards your sound?
CL: Amps we do are Vox, Orange, and Ibanez. We always liked the sound of smaller amps, so we use 2×12's, 1×12's, and a 1×15.
We aren't a very high gain sounding band so for effects it's mostly an OCD pedal or a Tube Screamer kinda vibe. Plenty of delays and reverbs.
Drums, we all swear by the Ludwig Black Beauty. It's a snare I've owned for years and we have used it for everything we've done.
HW: Why the decision to have Danny Rico (drummer) record FYA?
CL: We had the mentality of "if it's not broken, why try and fix it?"
Danny did such a great job with DDAN that it only made sense for him to do FYA.
HW: What came into play in deciding on the album artwork for FYA? Looks to be the same women found on DDAN but with a bit more maturity and confidence behind her eyes. Is this to say that FYA is similar to its previous release but differs as it is has grown in terms of the band's musicianship?
CL: Oddly enough, it's the same girl. The photo for DDAN was shot 7 years ago while the photo for FYA was shot 6 months ago. It's the person I write all my songs about and is the reason I started the band. I do love the idea of documenting her growing older, album cover to album cover.
HW: Anything else you'd like to make public or thank before we close this one up?
CL: Thank you for taking the time to do this! We are very excited for 2017 and can't wait for the record to come out.