We often look at the world through a lense of transgression influenced by both anger and rage. Yes, these words may be synonymous in nature but they do in fact draw parallels. Anger is a feeling that is only instigated when frustration, confusion, or stress is presented. Rage on the other hand is but a passionate cry of burning resentment towards the one particular that threatened the existence of what you loved or held dear. Regretfully to say the least, much of the world we live in is nothing more than despair and melancholy. To stay hopeful when nothing but doubt is present would be quite the tasking task. Still, the ability to have all of our senses succumb to depressive states is to mean that a level of goodness must have first been present at one point within our lives. To say that one has truly reached nirvana without feeling misery, trouble, or any form of badness. For with only one is to know nothing and to know nothing means to neither understand the difference between pain and pleasure.
The fine city of Newark has been founded on the need of a strong central community and as so, through the ever diverse and cultured population it houses, it has survived. Survival more than thriving or any other form of existing as this long standing community has dealt with varying woes. Crime, poverty, and the overall state of Brick City's fatiguing infrastructure only serves to perspectives of survival than one of prospering and harmonizing community. Like survival and harmony, rage and anger are quite distinctive. However, unlike the popular opinion of those who look from afar, Brick City is not as bad as one would come to find. In fact, through recent years, parts of Newark have been on the rise. Of course, no matter where you travel, it is keen to always have your head on a swivel while maintaining situational awareness. Instead of concerning this fine standing city with notions of fear or doubt we should view it for what it truly is; a city invested in art, music, and culture that is being harvested by the youth. Such is the role of the very band we are focusing this article on, Sunny Gang.
Sunny Gang is an infusion of genres rather than a mixture of influences. I remain specific on this wordplay because this band of misfits has infused styles of punk, blues, jazz, and even hip hop within the construction of this inherently hardcore outfit. Elements of music that only the rich and longstanding city of Newark could ever produce.
Yes, the anticipated outcome of incorporating hip hop with hardcore or metal and vice versa can be a sensitive matter. This is the thin line of being regarded as E-Town Concrete or being known as Korn. Fortunately, neither of those references are the case here. Sunny Gang is but a union of musicians who first familiarized themselves as friends first and inhabitants of a historic city second. Because of these preconceived notions, the end product of this unique project would inevitably become a congregation of blues, jazz, hip-hop, and punk.
As of now, you can stream their most current full length, Party Animal, via their SoundCloud channel. They are currently slated to hit the studio this spring, so any and all questions can be read below. Really stoked to see what these young men are able to achieve within the coming years, so keep those eyes focused and ears peeled y'all. Until next time.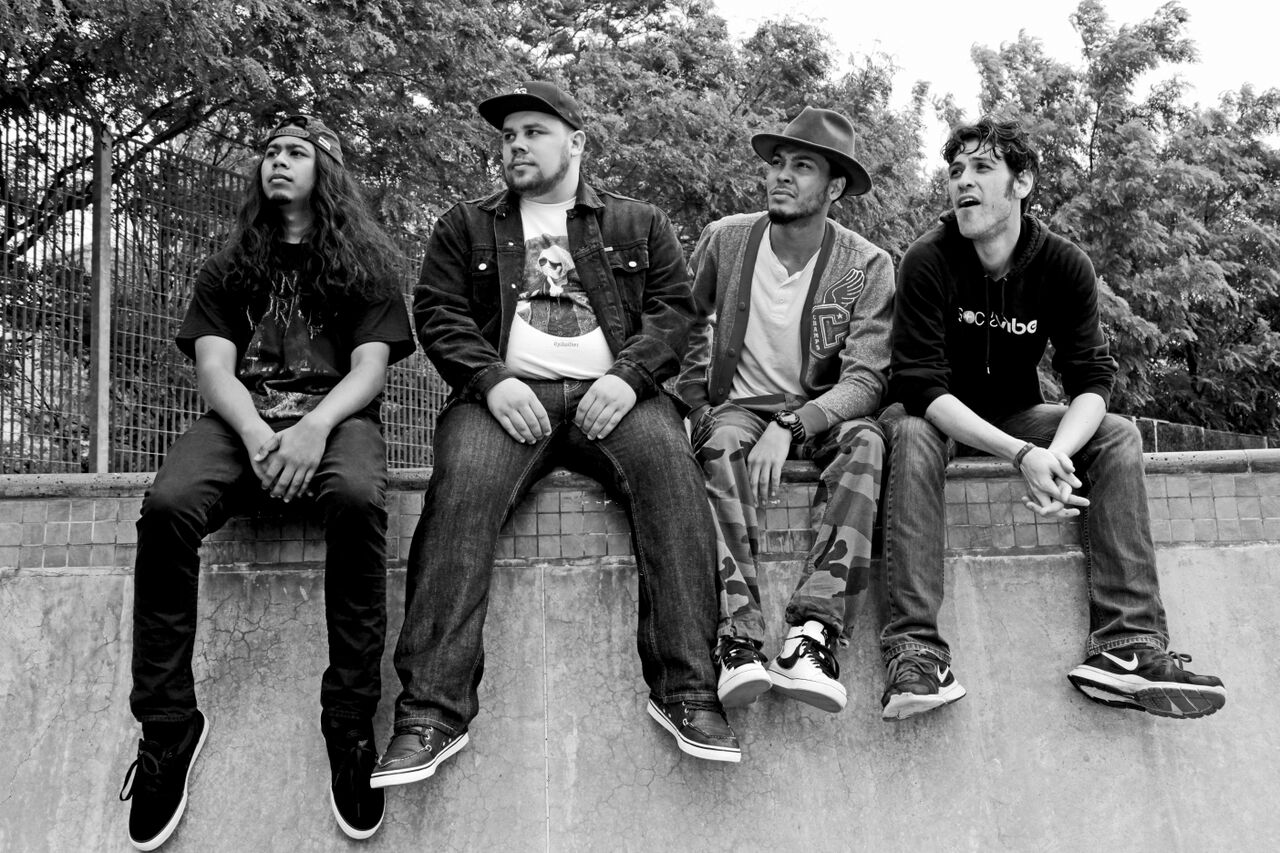 Interview with Sunny Gang
HW: How did this project come to be? Is Sunny Gang named after group the musicians that collectively make up this project or is there another meaning?
Chris Bacchus: The name Sunny Gang started about a year before we actually started making music as a collective. We all went to Rutgers of Newark and partied a lot. The crew we'd party with would call themselves Sunny Gang. Our homies, Chris Harrison and Klaine Gazze started the movement. It's based off of the gang from It's Always Sunny in Philadelphia.
HW. It's not the first time someone decided to mix elements of hip hop and punk rock together in order to make something unique. A process that can be tricky as there is a grey line in either sounding like Limp Bizkit or E-Town. What influences from hip hop and punk did you find yourself deriving from to make Sunny Gang's sound?
CB: Without a doubt, the fusion of hip hop and punk has been going down since the 80s. Shout out to the Beastie Boys. We definitely tried to stay far away from sounding like Limp Bizkit, E. Town, and any other band that fuses these two genres. Although I love a lot of the Nu-Metal I grew up on, we really try to stay far away from that as well. Plus, Nasty Nate has bars, not a lot of the fusion bands can say that.
From a Punk/Hardcore perspective, I draw a lot of guitar influences from Suicidal Tendencies, Dead Kennedys, and Bad Brains. From a Hip Hop perspective, I draw a lot of influence from The Roots and Beastie Boys. We don't limit ourselves to punk and hip hop though. Our sound takes elements from the blues, reggae, grunge, metal, and pretty much all of these genres we listen to. We take these different elements and combine them to make something that I believe is somewhat unique.
Marshal: To add to what Bacchus was saying, I think a lot of your proto-typical rap/rock groups really try as hard as possible to jam the two genres together, often taking the best aspects of the genre but forgetting to include the subtleties of the genre and/or the culture that often make the genres so brilliant. With us, we have this amazing opportunity of having a lyricist who is firmly planted in hip hop and musicians who grew up almost exclusively on rock, so when we make a song we can keep each other in check. It's very often that Bacchus, Sap, and I will come up with a song and Nate will ask "how do you realistically expect me to rap on this?" Or he'll write some bars and we'll be like "C'mon man, we're a rock band, get aggressive." Truly understanding the foundations of our roots enables us to pioneer our own comprehensive but unique genre.
Sap: The back and forth that Marsh is describing is what's making work on the new records so exciting. Our previous records saw us trying a lot of very disparate things, and in doing that we've learned a lot about what we do best. So the new material all sounds much more focused, without sacrificing our ability to play with different influences and genres.
Nate: Rage Against the Machine, One Day as a Lion, and Badbadnotgood's collaborations with artists like Ghostface Killa and Black Rock, just to name a few.
HW: How does hailing from Newark help define this project? People are quick to judge a city or place they have never lived in so what is it about your city that you're proud of or think people have no clue about?
CB: The Newark music scene is a very diverse place. A Newark show can consist of rappers like the NJ Rebels, Jersey Club DJ's like Nadus or Uniiqu3 and even soul bands like The Jack Moves. You can find a little bit of everything in this music scene. I believe our musical peers influence our creativity. The Newark scene is free from barriers and I believe that's what defines Party/Animal. Too many people have the wrong impression of Newark. It's not New Jersey Drive, it's not the car-jacking capital of the world. It's a city full of people that are willing to bust their ass to leave their mark in history. Sure it has its dangerous spots, but when you stay out of this city because of fear, you are really doing a disservice to yourself. Newark has a rich history full of culture, food, and jazz music. We truly care about this city. Fuck New York City, Newark is where it's at.
M: You know that saying any press is good press? Well with Newark it's like any identity is a good identity. None of us are originally from Newark, but we adopted the city's culture and subsequently the city embraced us. I may [begrudgingly] not live in Newark anymore, but it will always feel like home away from home to me.
S: Nork, good yeh.
N: People forget that Newark has a long history of jazz and blues music so I don't feel pressured to sound like anything because this city has such an eclectic past. Currently, Newark really has a lot of artists that have unique sounds so we fit in as far as bucking the mainstream stuff.
HW: What's the skate culture like over in Newark and Essex county? Think I heard something about Shorty's closing down not too long ago actually.
CB: The skate culture in Newark and Essex county has given me purpose since I was about 18 or so. It's comprised of skaters of all different ages and ethnicities. Everyone knows each other and pushes each other to be the best skater they can be. There's an incredible amount of street spots like the Peach Ledges and NJPAC. Some of the best days of my life were spent drinking 40s, puffing some spliffs and shredding with the homies till we physically couldn't skate anymore. Shorty's is an awesome DIY spot and is right up my alley because I love cruising on tranny. Apparently, there was an illegal demolition at Shorty's and those dickheads tore the walls down. Most of the ramps are still intact. Shout out to those dudes who built that park from the ground up. They pushed for what they believed in and were able to stop the demolition.
Shorty's is here to stay. Shorty's is teaming up with Vans for a fundraiser on April 22nd. Go out and support those dudes, their hard work doesn't go unnoticed!
S: One time we saw a fiend ride a shopping cart down the giant hill on Central Ave.
HW: How was the recording process for Party/Animal and what was the intention behind that record?
CB: Party/Animal is basically the first 3-4 years of Sunny Gang. It's a sonic culmination of all our musical, social and political influences. We really tried to be as unrestrained as possible in order to say what we wanted to say. The majority of these songs are based off of riffs that I came up with from more or less noodling around on the guitar. We'd pick a topic, pick a mood then we'd pick a message we were trying to convey. Next thing we knew? We had a full album.
This was the first scenario where I felt comfortable recording. We worked with our bro Jeremy Eger at Rojo Sound Studios in Kenilworth. Jeremy does a lot of audio work for This Is Hardcore, alongside my dude Len Carmichael who plays in Dissent, Bottomfeeder, and a bunch of other bands. We recorded Party/Animal during the Summer of 2015. Our intentions with this record were to break free from genre boundaries. We wanted to play what we wanted, when we wanted. Some of the songs were rushed in my opinion but you know, recording and writing is a learning experience. As cliche as this sounds, there's a lesson in everything. Everything is about forward progression. As Jacob Miller would say, Forward Ever/ Backward Never.
N: The message behind the album was that we love to party and fuck around but, we also have a socially conscious side. The flip side to that is that we aren't preachers so we try to keep the social commentary light.
HW: What's on the plate for the band this summer?
CB: We have a bunch of new material that I'm really excited about. We're planning to record two EPs this summer. The first EP is called Ball Drop and the second one is called American Carnage. I think we have totally found our sound and I am stoked to share this with those who support our movement.
S: Besides working on the record, we'll also be looking to get out and gig as much as possible, especially once the first one (Ball Drop) is done and out. We're all super excited about the new material and can't wait to get up and play it for everyone
HW: Last words before we finish this conversation?
CB: Music and Skateboarding is about being an individual. Don't let others dictate your creativity. Push for what you believe in. Don't settle and never tailor your creativity to appeal to everyone.
Hardcore shouldn't play the games other music scenes play. It's about standing up for what you believe in and not taking shit from anyone. It's not about your vintage Earth Crisis shirt or those new Air Maxes you have. I gotta give a major shout out to Joey Bottino who runs a zine called Breaking The Common Era. Shout out to Nadus who has supported us since day one. Shout out to all my homies in hardcore who are making great music like Dissent, Time Spent, Threat 2 Society, Garland Greene.. I can go on for days. Keep it real, keep it raw. PLAYER HATER!
M: Shout out WallyHood. Shout out day-ones. Shout out Seagrams. Shout out Family.
S: Big ups to the boy Shandy Lam. No particular reason.
N: Shoutout to all the true fans that support us. You motivate us to put out quality music.
.X.